Time Magazine on iGrill in "10 Cool Tech Twists for Any Summer Party" by Keith Wagstaff "Great for parties"!
By Keith Wagstaff, Time Magazine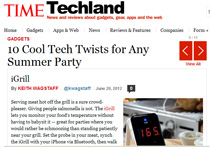 Gadgets
10 Cool Tech Twists for Any Summer Party
iGrill
By Keith Wagstaff | June 20, 2012
Serving meat hot off the grill is a sure crowd-pleaser. Giving people salmonella is not. The iGrill lets you monitor your food's temperature without having to babysit it — great for parties where you would rather be schmoozing than standing patiently near your grill. Set the probe in your meat, synch the iGrill with your iPhone via Bluetooth, then walk away up to 200 feet until an alarm on your phone lets you know the desired temperature has been reached.
The contents of all photos, graphics, and text are protected by copyright
and may not be used or reproduced without prior express written authorization from the publisher.