USA Today on foxL by Deborah Porterfield "You can ride your bike while enjoying music and communicating via the foxLv2, a pocket-sized wireless speaker and speaker phone designed to fit on the foxL BKMT-2 Bicycle Mount Kit."
By Deborah Porterfield, USA Today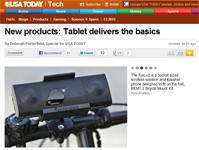 This weekly roundup takes a look at the practical and sometimes quirky aspects of tech products.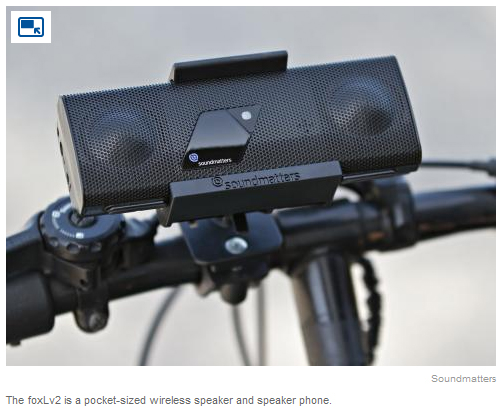 Speakers go on bike
You can ride your bike while enjoying music and communicating via the foxLv2, a pocket-sized wireless speaker and speaker phone designed to fit on the foxL BKMT-2 Bicycle Mount Kit. Designed to work with Bluetooth phones and audio players, the portable speaker from Soundmatters delivers audio that can be enjoyed at home or on the go. A wireless Bluetooth model with a battery that delivers 12 hours of playing time costs about $200, while a platinum version with 20 hours of playing time is $230. A wired version is $150. The universal bike mount, which fits on the handle bars, is $30.

www.soundmatters.com







The contents of all photos, graphics, and text are protected by copyright
and may not be used or reproduced without prior express written authorization from the publisher.