Wall Street Journal on foxL DASH7 "Small Speakers, Mighty Sound" by Erik Sofge!
By Erik Sofge, Wall Street Journal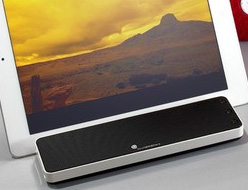 Libratone Loop and foxL Dash7: Small Speakers, Mighty Sound
By blasting sound in all directions, two new speakers belie their size

WARM AND FUZZY Because the Dash7 (shown in front of an iPad) is just ¾-of-an-inch thick, it can sit in front of the screen without obstructing the view.

FRONT AND CENTER: Traditionally, that's where you need to sit in relation to an audio speaker for it to sound the fullest. But two new models—which coax soundwaves to splay out to the left and right, as well as center—manage to envelop a room without overwhelming it.

Take, for instance, the foxL Dash7 (). You can think of this 7½-inch device as a soundbar for a tablet computer. Like a traditional television soundbar, the Dash7 is designed to span the width of a screen—in this case, that of an iPad or similar-size tablet. But unlike the most portable speakers, the Dash7 measures only ¾ inches deep. You can place it flat on a table, face up, in front of a propped-up tablet, and it will leave the image unobstructed. Yes, this leaves the Dash7 pointing toward the ceiling. But that's not an issue, because the speaker is tweaked to disperse audio at a wide angle.

Despite the Dash7′s slimness, its audio quality is a huge improvement over the feeble speakers built into most tablets. The iPad, for example, projects sound from one end of the device, making for a lopsided experience when watching videos, and even the front-mounted stereo speakers on less sonically challenged tablets are tinny and hollow. Connect the Dash7 and you'll notice a much-needed boost in volume and clarity.

The Dash7 can stream audio wirelessly over Bluetooth, and in our tests using an iPad to watch video, there was no lag between the sound and image that can plague other Bluetooth speakers. We also liked that the Dash7′s surprisingly grippy feet provide enough friction to function as a makeshift tablet stand. Lean your tablet against some books, and the Dash7 will keep the device from sliding forward.








The contents of all photos, graphics, and text are protected by copyright
and may not be used or reproduced without prior express written authorization from the publisher.